EMPLOYEE
INTERVIEWS
Global Sales DivisionJoined company in 2013
Kengo Tanabe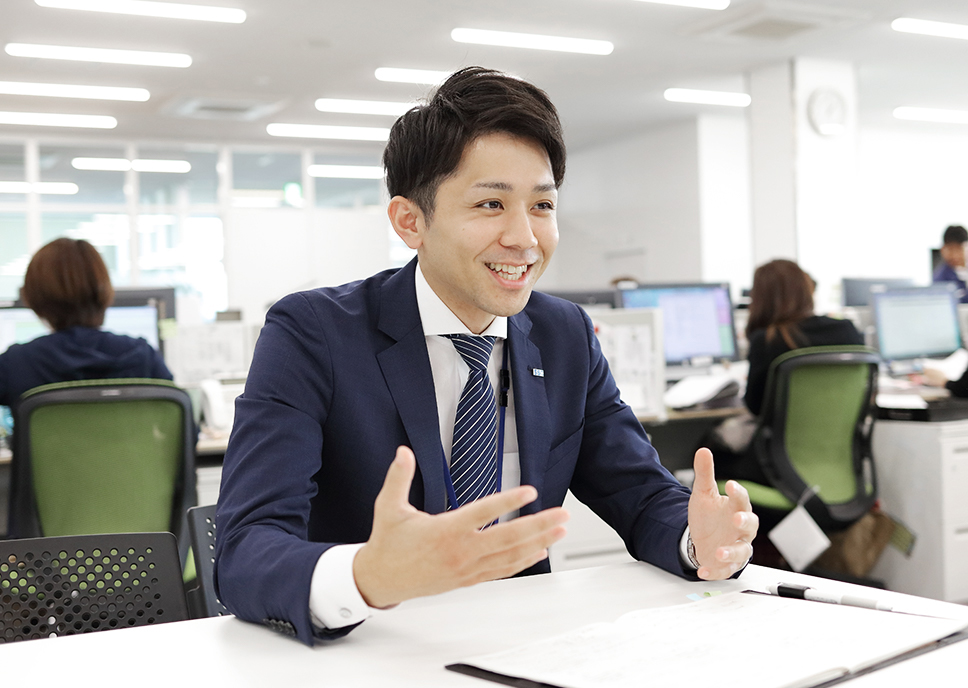 I started working for Sugiura Seisakusho as a new graduate and currently work in the Global Sales Division, helping to look for new markets and expand sales channels for automobile fastener components. My job is to ensure that the components that our client (a major automobile manufacturer) orders, is manufactured appropriately. I'm involved in the whole process, from discussing manufacturing methods in our company to proposing the plan to the client, to managing the orders themselves.
When I first entered the company, I had absolutely no knowledge of car components, and found it difficult to get a full understanding of the clients' needs. As a result, my proposals weren't as good as they could have been, and I wasn't able to coordinate very well in our company as well. Over time, however, I was able to deepen my understanding of our products and manufacturing technologies by memorizing the product specifications, actually checking the components on-site, and going through meeting after meeting with our clients and with various divisions within the company. Nowadays, as a sales employee at Japan's top market-share manufacturer of automobile fasteners, I'm confident in my ability to create proposals for our technologies.
It's okay if you don't know anything about the products or the manufacturing technologies at first. You'll gain the knowledge and confidence you need by working with your many seniors at the company. Let's all work together! One team!
Threading Section,
Manufacturing DivisionJoined company in 2012
Akisato Hikosaka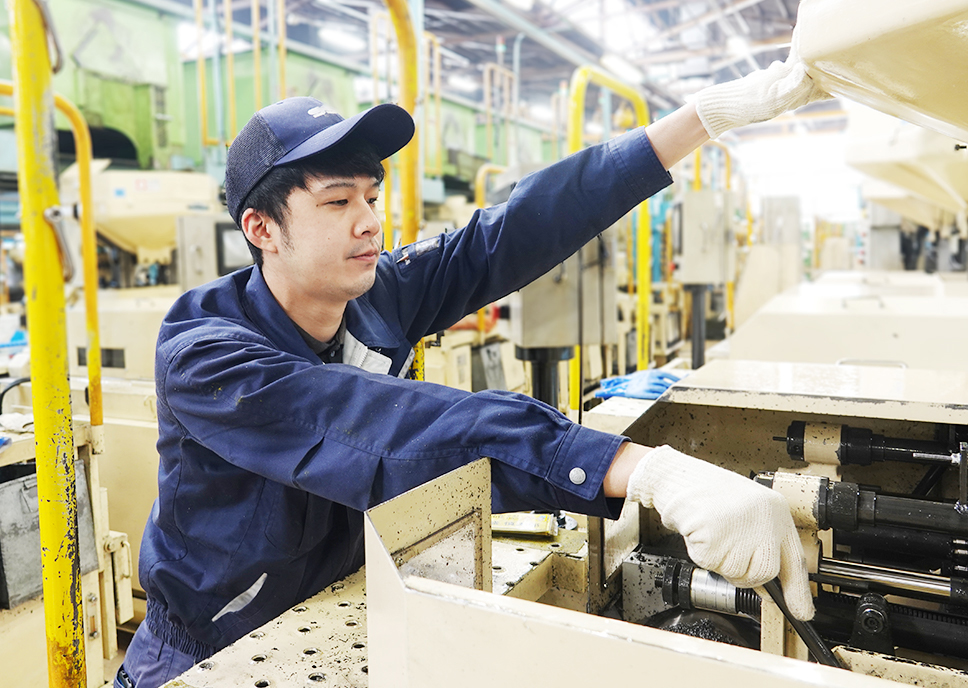 I've worked in the Threading Section of the Manufacturing Division since I first started working for Sugiura Seisakusho as a new graduate. I'm in charge of these components that are called nuts, the most well-known of which is the hub nut, used to secure tire wheels to the body of the automobile. I'm involved in the manufacture of several hundred types of products, all with different levels of processing.
The quality of the nuts I manufacture is greatly affected by the friction of a certain tool, called a tap, which is used in tapping process. As a result, I have to check the quality of the nuts according to the in our company rules, and make sure the taps are in good condition. I also have to communicate effectively with representatives from the other sections, using a tool called a kanban, because if we aren't able to coordinate with the processes that come before and after, it can disrupt the production plan and result in material shortages.
My work here is different from typical factory work, in that we have to think on a daily basis about the most effective ways to use our available equipment to fulfill the orders we have for that day. You do need the perseverance to get through the work, but the sense of accomplishment you feel when you're able to manufacture something efficiently is incredible, and I think it's interesting in ways that other factory work isn't. With the goal of taking a managerial position, I would like to continue to master thread screw cutting technology in the future!
Evaluation Management
Department,
Quality Assurance DivisionJoined company in 2007
Mariko Tachibana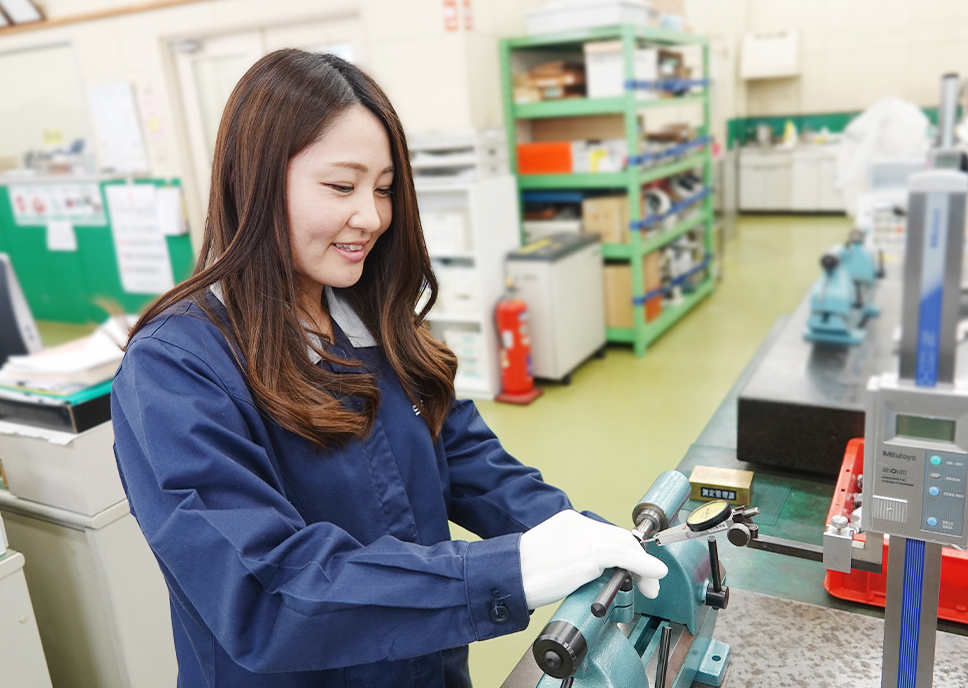 I started working for the Quality Assurance Division of the Evaluation Management Department at Sugiura Seisakusho as a new graduate after high school. In my work, I receive requests for product quality evaluations from various production divisions, check to see if the products fit the diagram specifications, and conduct the evaluations themselves.
Sugiura Seisakusho handles all kinds of products, which means we also have all kinds of measuring equipment that is used to measure the products. Combined with the frequent upgrades to new models, this does make it a bit of a struggle to remember how to use each type of equipment. At first I didn't know how to read the diagrams, and I struggled to comprehend the measuring methods for all of the products. But being able to see so many different products through this quality management process has been very interesting for me.
My seniors at the Quality Assurance have been very kind to me, treating me--their junior--as their equal. They all provide me with the same kinds of instruction, no matter who I ask, which makes me feel secure about my work. I also think, in terms of balancing work and child care, that this is a comfortable working environment for women--I have seniors, for example, who were able to return to work after maternity and child care leave, or who have been able to work reduced hours. There's so much to learn in the world of evaluations, and there are still certain kinds of equipment that I'm not fully acquainted with, but I work hard every day, with the goal of getting as good as I can be at conducting all of the company's evaluations.